Gostiny Dvor: features and services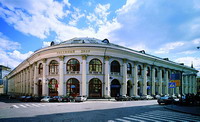 Moscow Gostiny Dvor is one of the most prestigious exhibition spaces of Russia which often becomes the venue for events of federal significance. The Exhibition Complex is located in the very center of Moscow, just 150 away meters from the Kremlin.
Moscow Gostiny Dvor features such qualities as:
Convenient location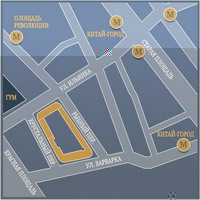 Gostiny Dvor is located at 4, Ilynka Street, only 300 meters from Ploschad Revolutsii metro station and 500 meters from Kitay-Gorod and Teatralnaya metro stations. Since federal officers often visit events held at the Exhibition Complex, its close proximity to the Kremlin and buildings of the majority of ministries and government agencies is considered convenient. For the location map of
Moscow Gostiny Dvor
Suitability for prestigious events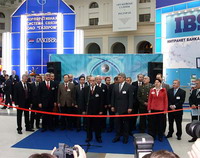 Annually, Moscow Gostiny Dvor becomes the venue of many cultural events, children's holidays and festivals, city and national holidays, international exhibitions and showrooms, concerts, shows and fashion parades. In particular, Mayor's Annual New Year ball, concerts of Montserrat Caballe, Jose Carreras, and Sissel, Pravoslavnaya Rus (Orthodox Rus) exhibition, Marine Industry of Russia International Forum were held here.
Also see: Marine Industry of Russia Forum hall layout
,
Virtual tour around Gostiny Dvor
.
Developed infrastructure
The overall area is 82.000 sq. m. while its exposition area exceeds 14.000 sq. m. Since 1995 year-end, Moscow City Administration headed by Yu. M. Luzhkov accomplished reconstruction of Gostiny Dvor which made the Exhibition Complex an up-to-date business, cultural and commercial center. The rooms of the exhibition hall have been fully refitted using advanced utilities in line with smart building concept; there have been installed climate and air conditioning systems, and provided access to office equipment and control systems. The area of Moscow Gostiny Dvor places 8 restaurants, 3 banks and many ATMs, galleries and shops; the construction of a hotel is planned which is to complete the hotel ring around the Kremlin.
Unique architectural solutions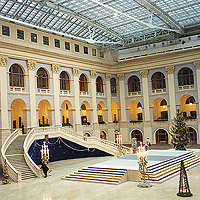 It is important for exposition providers to know the features of artistic solutions. The complex manifests a singular link of times. Its spacious granite paved inner court is encircled by molded columns and classical arches. It is covered by light unsupported translucent roof which is the largest in Europe (a covered city square is similar in size and outlook to San Marco Square in Venice). More information…
For additional information go to the official site of Moscow Gostiny Dvor http://www.mosgd.ru/ru/