This website section is designed for Marine Industry of Russia Forum participants.
Visitors of the forum will be able to find a reliable partner (searching by the sphere of activities, equipment or key words) and make an appointment with them through our website services. News of the forum participants and their interviews, full information on the latest equipment and technology are published on the website as well
Customs-, On-Site-Handling- & Transport-Services official On-Site-Exhibition Freight Forwarder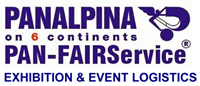 Panalpina Welttransport (Deutschland) GmbH
PAN-FAIRService® Hamburg
Nagelsweg 37, D-20097 Hamburg / Germany
Internet www.pfs.de
www.panalpina.com
1. Mr. Frank Poettgen
BU PAN-FAIRService
Business Unit Development Manager / Vice President
Phone: +49 (40) 23771 1285
Fax: +49 (40) 23771 1900
Mobile: +49 (160) 8854775
E-Mail: frank.poettgen@panalpina.com
2. Mr. Tim Kistenmacher
BU PAN-FAIRService
Manager Russia, C.I.S., Europe
Phone: +49 (40) 23771 1281
Fax: +49 (40) 23771 1900
Mobile: +49 (0) 160 880 5718
Mobile RUS: +7 985 8985514
E-Mail: tim.kistenmacher@panalpina.com
Travel partner
Demlink Travel Agency


Mrs. Svetlana Belova
Office 1, 1st Smolensky Pereulok 24,
Moscow, 121099, Russia
Tel: +7 (495) 797 6400, +7 (495) 661 0561 ext. 1311
Fax: +7 (495) 797 9400, +7 (495) 661 0470
E-mail: Svetlana.Belova@demlink.ru
www.demlink.com

Cooperation conditions for partners and sponsor of our Forum. Our major sponsors will be provided with highlight marketing and PR support as well as major privileges in obtaining information upon Forum closing. However, any company can be granted the status "
THE
OFFICIAL
PARTNER
OF
THE
FORUM"
at absolutely no charge.
Information on your company will be placed in Partners section of our website, at friendly Internet-resources and in industry
MSM
as well as in Marine Industry of Russia official catalogue. You will also obtain a gift certificate confirming you support to the Forum.